Hi again!
I'm posting a second time today to show you something that I ordered from etsy a couple of weeks ago and arrived this afternoon. It's completely unrelated to nails and nail polish, but I think you guys will still be interested in seeing it! It's a bamboo hedgehog charm bracelet!
Isn't it just SO freaking adorable?! It's from the store
graphicspaceswood
and they offer a variety of handcrafted wood pieces from bookends to clocks to other jewelry pieces. All of the artwork is completely original and the pieces are all laser cut.
And if you're not big on hedgehogs like I am, there's also many other animals to choose from (such as a shark, an owl, a bunny, a fox, etc).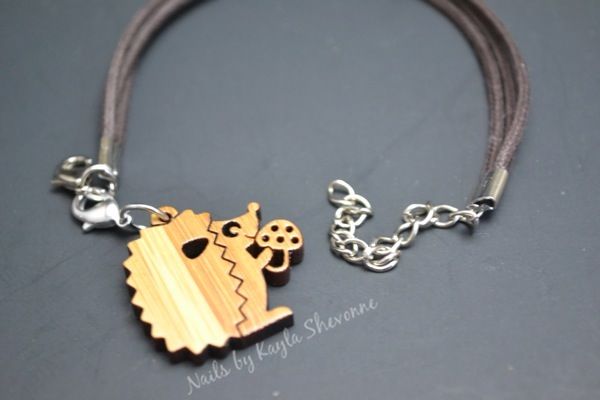 The bracelet I chose is a triple strand cotton waxed cord bracelet and I chose it in the colour chocolate brown. It's also available in cherry red, leaf green and licorice black. I chose the brown because I thought it would go with most outfits (I plan on wearing this a lot) and I also think it matches the colours of the wood very nicely.
Everything came packaged in this nice keepsake box that I'll be keeping on my dresser for when I'm not wearing the bracelet.
This bracelet cost $16 ($16.45 CAD) and it's totally and completely worth it in my opinion. I definitely recommend the products from
graphicspaceswood
!
So what do you guys think of my hedgie bracelet?