Hi everyone!
Welcome to Day 6 of Pinterest Week!
You didn't think that you'd only be seeing one rainbow design this week, did you? Of course I have another one for you!
Here's
a link to my pin for this design, and
here's
the link to the original source.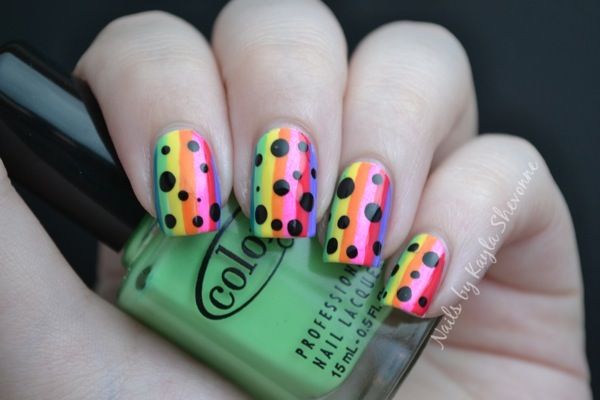 To create this design, I first started out with a base of white (
Wet 'n' Wild French White
) to make all the rainbow colours pop. Then, using a striper brush, I created vertical stripes using an array of rainbow colours. Finally, I used two dotting tools - a medium and a large to create the black polka dots over the rainbow stripes.
Once again, I didn't have the exact colours used in the original design, so I found suitable substitutes. Also, there's no purple in the original design, but I had some space leftover after using the other colours, so I decided to add the purple.
In order from left to right (in the above picture), the colours are
OPI Fly
,
Color Club Twiggie
,
Orly Spark
,
China Glaze Breakin'
,
Orly Flirty
,
China Glaze Heli-Yum
, and
Color Club Pucci-licious
.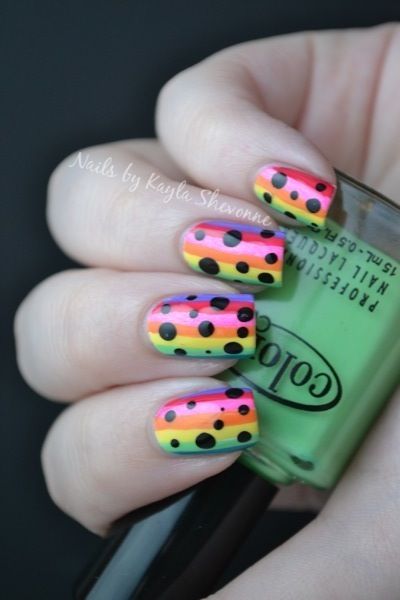 I really, really love how this design turned out and I received many compliments on it a few days ago when I wore this! It's definitely a head-turning, bold manicure!
See you tomorrow for my final Pinterest recreation!