Hi everyone!
Today I have a fairly new indie brand to share with you! There really aren't that many Canadian-based polish brands out there, so Polish, Eh?!? has stepped in and filled the void by being a super proud Canadian brand! They're branding themselves as very clearly Canadian by using the maple leaf on their labels and using the Canadian colloquialism "Eh" in their name.
Janet was nice enough to allow me to try out a couple of her polishes and I've got to say, I'm quite impressed. Take a look for yourself!
_________________________________________________________________________________________________
Gumballs
is a clear base packed with extra small and small white glitters as well as a variety of other coloured medium sized hexes (wow, that's a mouthful). Here I've shown two coats of Gumballs over
Zoya Robyn
. It applied very nicely and I didn't have to do any placing of the glitters.
The layering options are endless with this polish! I think it would look great over a white creme because the white glitters would give it an interesting textured look and the multi-coloured hexes would really stand out. This would also work really well for glitter sandwiches!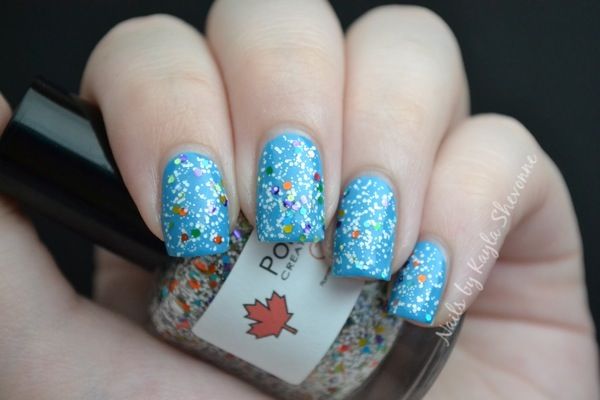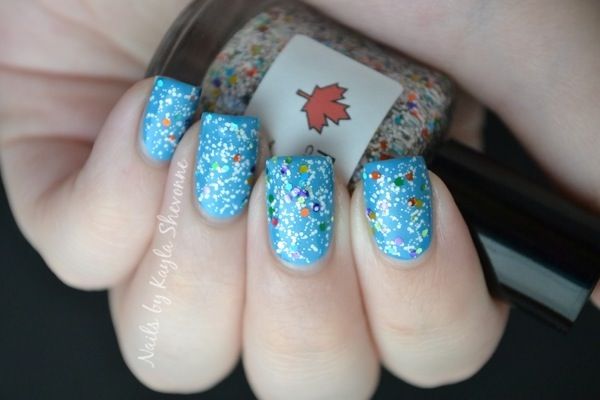 Confectionary
is a pale, milky pink base with a mix of different sized and different coloured glitters. It makes me think of strawberry frozen yogurt with sprinkles in it!
My swatch is three coats of Confectionary on its own, but you could choose to layer it over a similar base colour in order to conserve polish. However, I like how several layers create dimension because some of the glitters sink into the base a little while others sit on top.
I'm honestly quite in love with this polish! It's so delicate and pretty, yet so interesting and dimensional!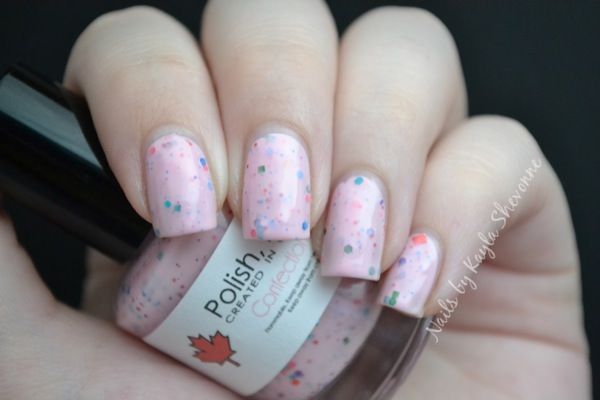 Something to note about these polishes is that my bottles did not experience any settling glitter. This can be a problem with some indies, but the glitters in both of these Polish, Eh?!? shades stayed completely suspended in the base.
Polish, Eh?!? polishes are available
on Etsy
for $8.40 CAD each. Both Gumballs and Confectionary are currently in stock. For more information on the brand, you can keep up with them
on Facebook
.
Being a Canadian company, Polish, Eh?!? suffers from the very unfortunate (and frankly, quite ridiculous) prices of Canada Post. Thus, through no fault of Polish, Eh?!?, within Canada shipping is pretty outrageous. However, shipping to the US is quite reasonable.
I very happy with both of the polishes I've tried from Polish, Eh?!? and I really think that this brand is a great addition to the indie polish community!
The product(s) in this post were provided by the manufacturer or their PR in exchange for an honest review.