Hey everyone!
Today I have a new brand to share with you -
Silky Polish: Polish With a Conscience
. And before I share some swatches with you, I want to give you some information about the brand.
Silky Polish is 5-free, non-toxic, hypo-allergenic and pregnancy-safe. It's certified vegan and cruelty-free as well as eco-friendly. The bottles and kits are completely recyclable, the kit boxes are made from 100% post-consumer recycled paper and all printing is in soy ink.
With all that said, we nail polish addicts still need a quality nail polish, so let's take a look to see if Silky Polish also delivers in that respect.
_________________________________________________________________________________________________
This is the
Vibrant Silks Kit
which includes three polishes (Dupion Tang, Tussah Glow and Viole Serenade), the Silky Herbal Remedy Base Coat, the Silky Wet Look Topper Top Coat as well as a detail nail art brush.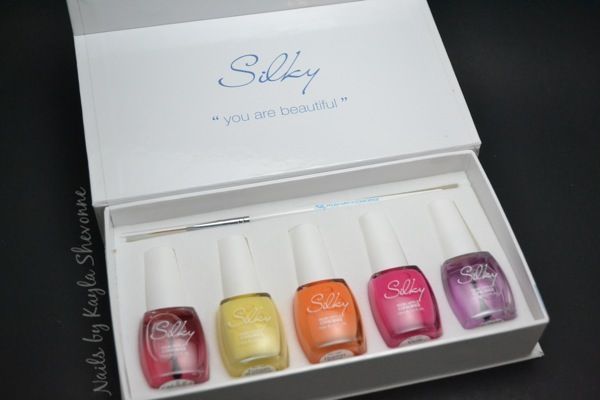 As you can see, the products come packaged in this really classy magnetic-closure box.
I won't be storing the polishes in this box since they'll be joining my other polishes in my melmers, but it can come in handy when storing other nail supplies. For example, nail art brushes/dotting tools or nail art decorations such as rhinestones and studs. You could even use this to store stamping plates and stamping supplies!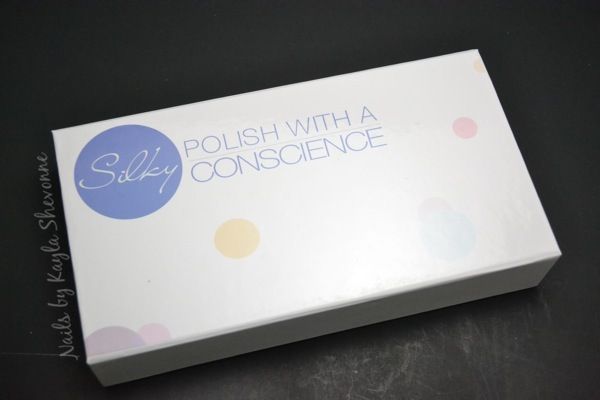 Here's a closer look at the products that come with this kit. Before I get to the swatches, I'll discuss the Silky Herbal Remedy Base Coat, the Silky Wet Look Topper Top Coat.
The Silky Herbal Remedy Base Coat
is infused with vitamins and nutrients (such as Vitamin E and Equisetum herb) that help keep your nails healthy and strong. It can be used as a daily remedy to strengthen and heal nails (apply 3 times a week) or as a base coat to protect your nails before polish application.
I've been using it as a base coat since I got it and since that's not a very long test period, I can't speak of the healing and/or strengthening properties of it quite yet, but it does work well as a base coat for polish. I will continue using this as my go-to base coat over the next month or so and then I'll update this post with my thoughts.
The Silky Wet Look Topper Top Coat
works really well to give that super shiny "wet" look to a manicure. It doesn't dry as fast as say Seche Vite does, but I did find that it's not as thick as Seche Vite, which I like.
Now let's get to the swatches!
First up is
Dupion Tang
, a bright and tropical orange creme. I have a couple of go-to orange shades in my stash and this one has just landed itself a spot in that mix. The formula is really great and easy to work with and my swatch is two coats.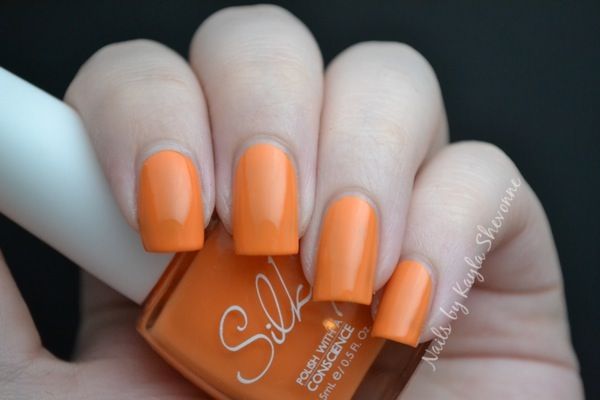 Tussah Glow
is a buttery lemon yellow creme. This doesn't suffer from some of the problems that yellow polishes often suffer from (ie: patchy and difficult formulas). This glided on smoothy and was opaque in three coats.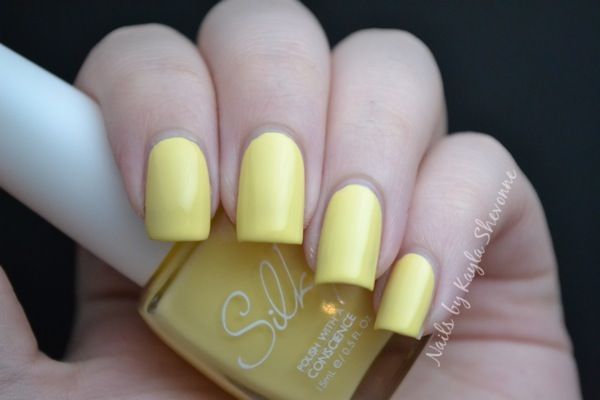 Last up is
Viole Serenade
, which is a bright candy pink creme. I really love how pinks like this one look against my fair skin! The formula was good like the other two I tried and my swatch is two easy coats.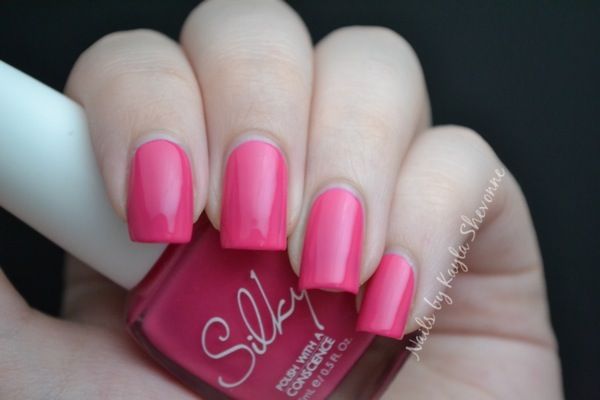 Since the kit also came with a nail art brush, I decided to use it to add a couple of stripes to Tussah Glow using both Dupion Tang and Viole Serenade. The brush is a good quality one and I find that it's best for doing striping work since the bristles are on the longer side.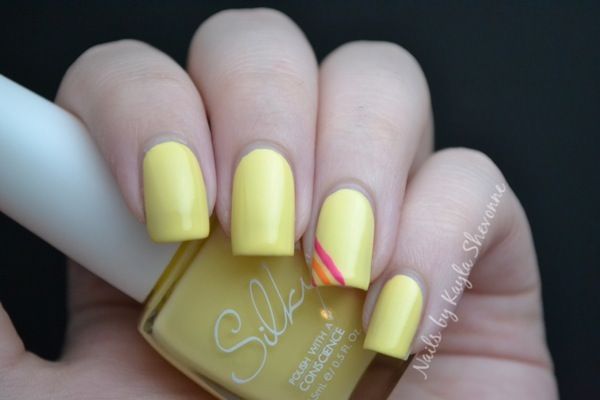 It's not often that I test longevity of polishes, mostly because I typically change my polish every couple of days. However, I had read other reviews of this brand that mentioned their longevity, so I decided to test it out for myself.
After swatching these, I left Viole Serenade on my nails for four full days. I used both the Silky Herbal Remedy Base Coat and the Silky Wet Look Topper Top Coat in this test as well. When I removed the polish, I had tip wear, but no chips anywhere. I was itching to change my polish after so long (long for me, anyways!), but I think four full days is pretty good!
With ALL of that said, I'll keep my conclusion of this post short. I'm impressed with all of the Silky Polish products and I love the values behind the brand.
You can purchase Silky Polish products on their
website
and each 15ml polish/treatment retails for $12.50. The shade collection isn't huge, but there's a good variety of colours and finishes to choose from.
The
Vibrant Silks Kit
retails for $49.50, which means that you're getting each of the polishes/treatments for a sale price of $9.90. And don't forget that you get the nail art brush and the box as well, so when you factor those in, it's an even better price!
Of course, an even better price would be FREE! In the near future, I'll be offering a Silky Polish giveaway! Look out for it.
The product(s) in this post were provided by the manufacturer or their PR in exchange for an honest review.