Hey guys!
Today marks the inaugural post of the 31 Day Challenge! If you missed yesterday's introduction post, check it out
here
to see a full lineup of all the manicures you'll be seeing over the next 31 days.
The theme for Day 1 is red nails, so I came up with this sexy fishnet ruffian design.
To create this look, I started out by laying down one coat of
China Glaze Stone Cold
- a suede finish grey with silver glitter. Then I used my favourite red at the moment,
OPI Danke-Shiny Red
, to create the ruffian.
I was actually considering stopping there because I liked how these two colours looked together, but I decided to take it one step further and add the fishnet design from
BM-209
over just the red section.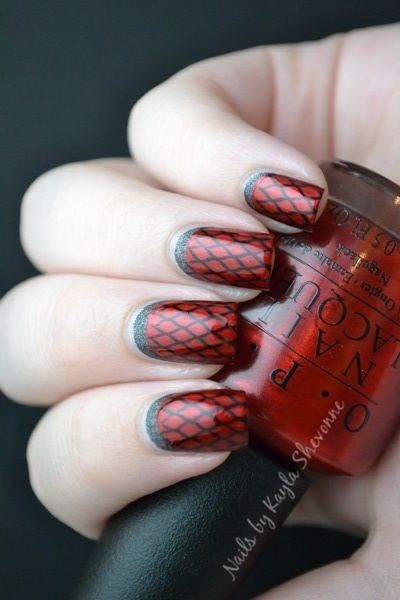 I really like contrasting finishes in ruffian manicures, so I wanted to keep the suede finish of China Glaze Stone Cold. To do that, I skipped that section when adding my top coat and only top coated the red section.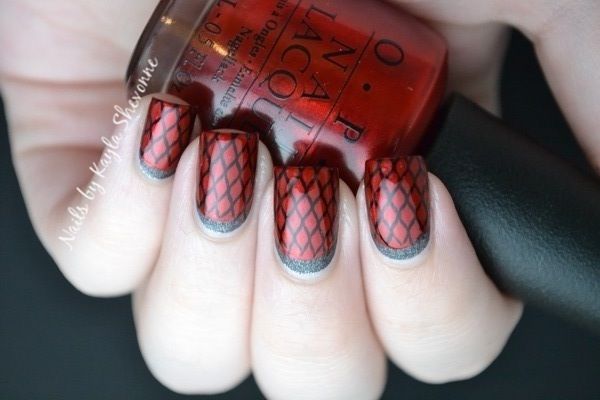 I'm making it a goal of mine to include several stamping designs in my manicure lineup for this challenge so that I can practice my stamping skills. I think this is a good start!
So that's one down and only thirty more to go! Stay tuned for some orange nail art tomorrow!