Hi everyone!
Today is Day 10 of the 31 Day Challenge and the theme is Gradient Nails.
I haven't done a gradient in months now, so I was excited to do one for today. Unfortunately, I'm not totally pleased with the results. In my eyes, this manicure is just ok. Take a look for yourself.
The colours I used for my gradient are
China Glaze Lemon Fizz
and
China Glaze Something Sweet
. Sadly, my bottle of Something Sweet has thickened almost to the point of being unsalvageable, and I didn't realize this until I already had my gradient started. There was no turning back!
So with difficulty (and a lot of polish thinner), I managed to create a decent gradient, but still not quite up to my own standards. I know it's not as noticeable in my photos as it was in person, but there were lumps and bumps in several places from the polish just being hard to work with.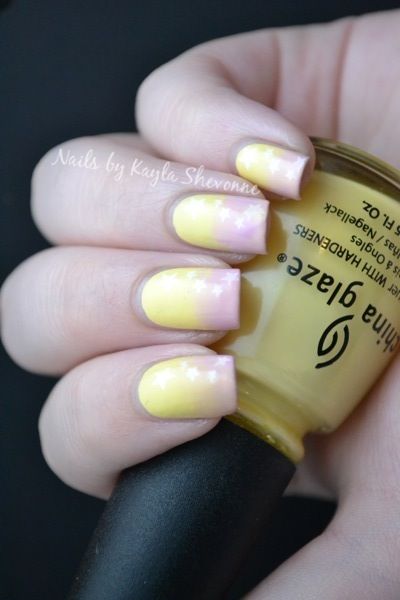 To cover up some of the sadness of the gradient, I decided to add a some subtle stamping. Using
Konad White
and
BM-14
, I added the stars onto the sides of my nails.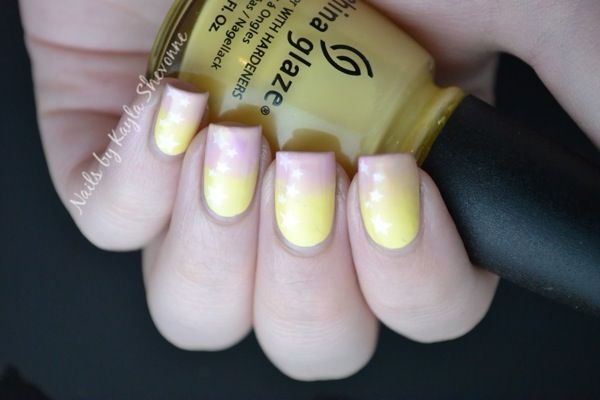 Hopefully you all like this even a little more than I do!
So that's ten manis down, twenty-one to go! Check back tomorrow for some polka dot nails!
And if you're interested in seeing what else I've got in store for you, you can head back to my
challenge introduction post
to see the prompts for the rest of the manis.