Hey everyone!
It's Day 11! This is going by a lot faster than I had anticipated!
After my gradient manicure from yesterday didn't work out quite as I had planned, I wanted to redeem myself with another gradient. So while today's theme is polka dots, I also included a gradient in my design.
The colours I used for my gradient are
OPI Alpine Snow
and
OPI Fly
. I then added the white polka dots using Alpine Snow again. This is sort of a two-way gradient because there's the base gradient of white and teal and then the polka dots gradiate into the white polish.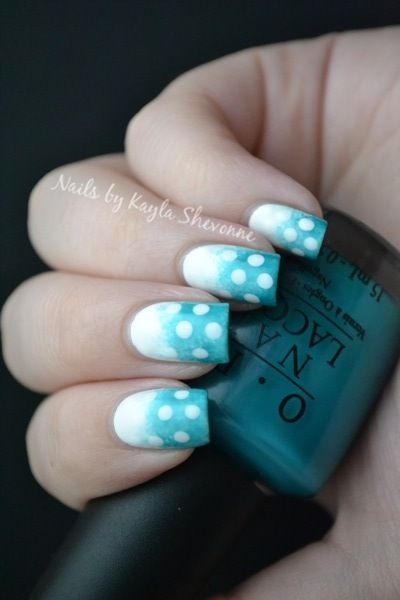 There are several methods for doing gradient manicures, but the one I've found that I like the most is to actually paint the polish directly onto the makeup sponge and then dab it onto the nails.
This
tutorial by The Nailasaurus is also a really popular method.
That's it for today! That's eleven down, twenty to go!
Day 12 is stripes and I can't wait to show you guys my stripe design! Be sure to check back tomorrow for it!