Hi everyone!
I had a number of ideas for today's stripe mani, but in the end I went for something that's completely outside of the box!
It's a little cartoon hedgehog! You all know how much I love hedgehogs, so this was bound to happen at some point!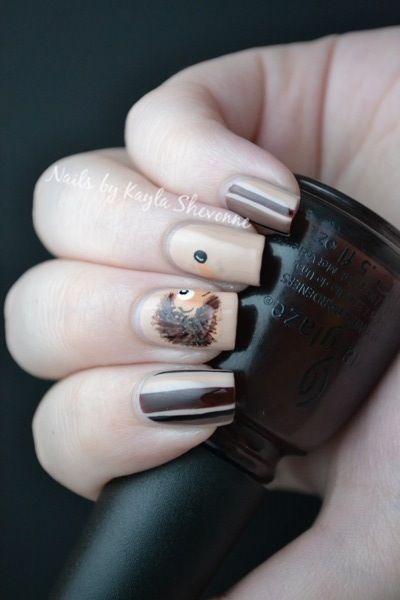 There are a lot of colours used in this design, but I'll try to list them all. For starters, I know that the base colour is
OPI Don't Pretzel My Buttons
. From there, it's a little more difficult, but I'll try my best to name them all.
China Glaze Call of the Wild
China Glaze Desert Sun
China Glaze Street Chic
Color Club Nomadic in Nude
OPI San Tan-tonio
OPI Suzi Loves Cowboys
I believe those are all of the brown shades I used. I also used
Wet 'n' Wild French White
and
Wet 'n' Wild Black Creme
for the small amount of black and white details.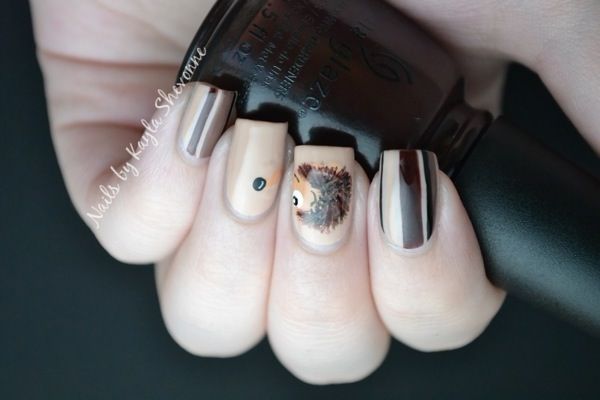 I'm so very happy with how well this design turned out! I really like how the stripes offset the hedgehog (who I've named Butterscotch, by the way) on either side. Also, I haven't done any brown during the challenge yet, so this was a nice change of pace.
I really hope you guys enjoyed today's design!
Check back tomorrow for some animal print nails!