Hi everyone!
Welcome to Day 13 of the challenge! Today is animal print day and you all know how much I like animal print! Today and rainbow day are probably the most "me" days of the challenge.
Since I love animal print manicures so much, you've seen plenty of them from me. So to switch it up, I went for an unconventional animal print today - the clownfish.
Obviously, it ended up looking very much like a Finding Nemo manicure, which actually wasn't my original intention. But once I realized it, I ran with it, which is why I added the ocean gradient/bubble accent nail. But don't worry, I still have something really awesome planned for the "inspired by a movie" day of the challenge!
The base colour for this design is
China Glaze Surfin' For Boys
from the Summer Neons Collection. For the print details I used two of the
It's So Easy Stripe Rite Paints
in
Black
and
White
. I can't say enough good things about these stripers - they're definitely the best ones I've ever used and they've made their way into my regularly used nail art tools.
For the ocean gradient, I used
OPI Teal the Cows Come Home
,
OPI Swimsuit...Nailed It!
and
Illamasqua Phallic
. I then used a dotting tool to add some bubbles with
Wet 'n' Wild French White
. The final details on the bubbles were also done with OPI Teal the Cows Come Home and a small detail brush.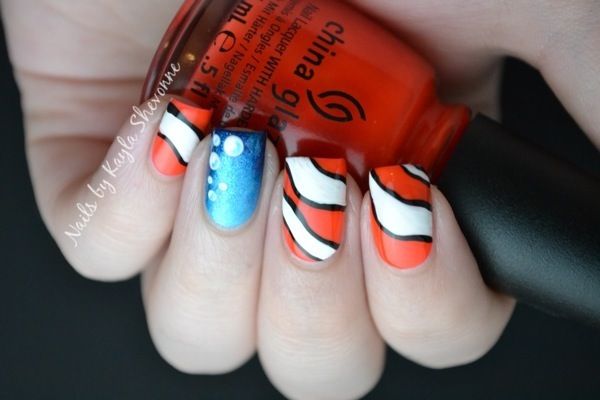 I feel like I cheated on this day a bit because this definitely screams "movie manicure" before it screams "animal print" manicure. But it still counts, right? Haha!
See you guys tomorrow with a floral design!