Hey guys!
Today's theme is floral nail art, and in sticking with the unconventional designs I've been doing over the last couple of days, I chose a rather unique flower to incorporate into my manicure - the bird of paradise flower. I've included a photo at the end of the post in case you're not familiar with this flower.
My nail art aesthetic is generally more cartoonish than it is realistic, so this design is definitely out of my comfort zone. Hopefully I managed to do this gorgeous flower some justice though!
On my non-accent nails, I used a technique that I learned from Lindsay of
Neverland Nail Blog
called the "
fan brush gradient
". It's a really interesting technique and the result can be quite stunning! Hers definitely turned out a lot better than my first attempt, but I'm still pretty happy with it.
Sadly, I didn't have the same colours she used (although they are on my wishlist), so I had to find substitutes. The colours I used are
OPI Be A Dahlia Won't You?
and
OPI Austin-tatious Turquoise
.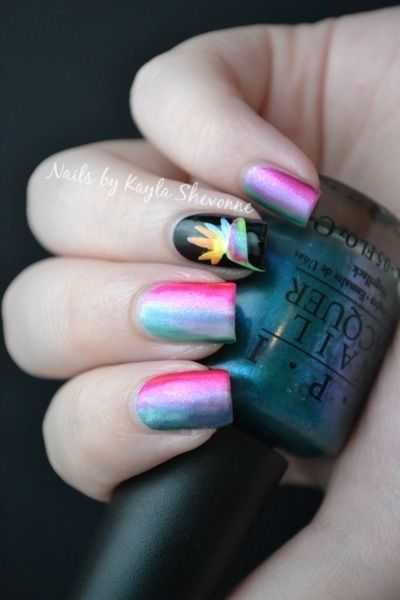 The bird of paradise flower on my ring finger was done using a small detail brush and a fair amount of patience. First I started with a base of black (
Wet 'n' Wild Black Creme
) and then I made the basic shape of the flower with white (
Wet 'n' Wild French White
). The details of the flower were filled in using a number of polishes:
China Glaze Entourage
China Glaze Orange You Hot?
China Glaze Sun-Kissed
OPI Austin-tatious Turquoise
OPI Be A Dahlia Won't You?
OPI Swimsuit...Nailed It!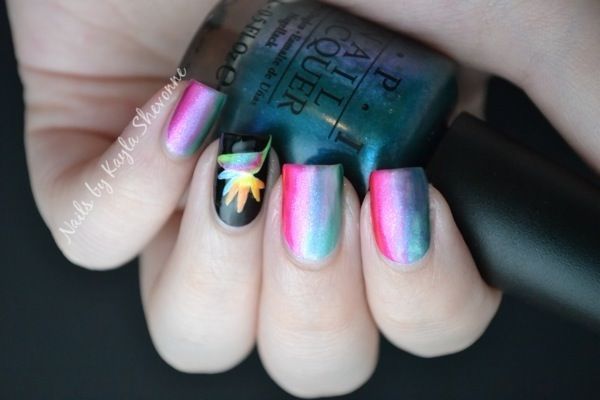 And here's the exact image of the bird of paradise flower that inspired me for this nail design:
Overall, I'm happy with this design and I like it's uniqueness, it just doesn't appeal to my aesthetic as much as the more funky/cartoonish type of designs do.
Fourteen down, seventeen to go! See you tomorrow for some delicate print nails!