Hi everyone!
Welcome to Day 2 of the 31 Day Challenge! The theme today is orange nails and at first I was having some trouble coming up with a design utilizing orange, but then I thought "hey, just do a fruity orange print!". So that's what I did!
Oddly enough, my mani for today is ridiculously similar to my friend Rebecca's
red manicure
from yesterday! I did this design in advance because I had plans last night and didn't think I would find the time to do my Day 2 design (turns out that I was right so I'm glad I thought ahead!). So I had this done before ever even seeing her Day 1-icure!
So when Rebecca posted her red mani yesterday, I immediately sent her a photo of my orange mani and we were both shocked to see how coincidental it was that our designs were so similar! Great minds think alike, I guess!
Take a look for yourself!
For this design, I started out with a base of
Illamasqua Purity
, a nice peachy creme colour. Using a large dotting tool and
China Glaze Orange You Hot?
, I created the oranges and I then outlined them using
OPI Suzi Loves Cowboys
and a really fine detail brush.
Next, to add a little dimension to the oranges, I added a hint of white to some of the edges. And finally, I added the stems and the details on the bottom of the oranges using
China Glaze Street Chic
.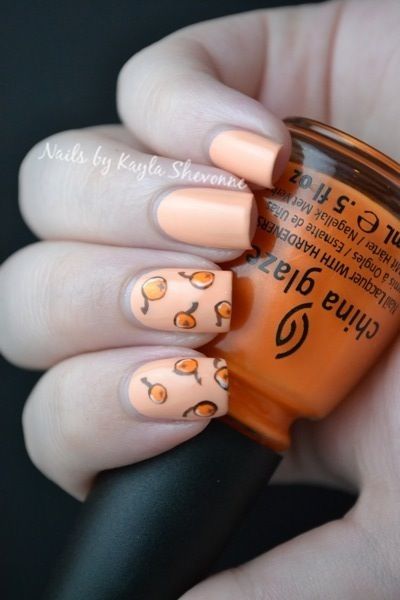 As I was doing this mani, I thought it was going to be a complete fail. But it really started to come together as I was finished up and I actually ended up loving it!
So that's two down, only twenty-nine to go! Check back tomorrow for some yellow nails!