Hey guys!
Today is Day 3 of the 31 Day Challenge and the theme today is yellow nails.
I've been wanting to try the saran wrap (or cling wrap, whatever you prefer to call it) manicure for a while now, so I thought today would be a good day to give it a go!
To get this look, I started with a base colour of
China Glaze Hang-ten Toes
and let that completely dry. Then, working on one nail at a time, I added a coat of
China Glaze Sun Kissed
right over top of Hang-ten Toes.
While that was still wet, I dabbed it with a piece of bunched up saran wrap, which resulted in this cool marbled effect. Finally, I added a coat of
China Glaze Fairy
Dust to add a little sparkle.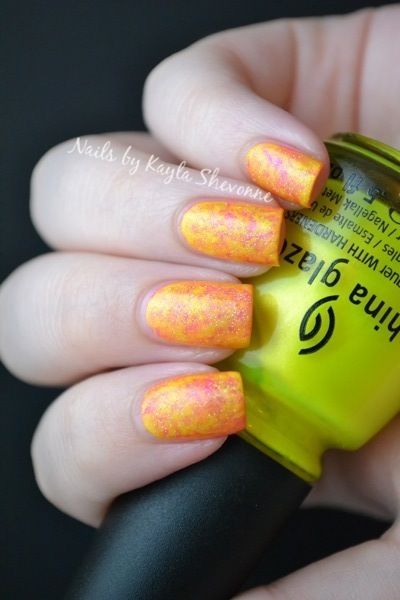 Quick piece of advice: if you're planning on trying this technique yourself, I suggest getting all of your pieces of saran wrap ready ahead of time so that you don't run the risk of smudging your manicure. I learned this the hard way when I had to repaint a couple of the nails on my right hand.
I do like the way this turned out, but I probably should have used a different yellow polish because the end result looks almost orange, which doesn't fit the yellow theme of Day 3. This is definitely a technique that I'll be trying again in the future, though! The marbled result looks awesome and it's so very easy to do!
I got several compliments on this manicure and when I was asked how I did it, I told them with pieces of saran wrap and I basically got this look: o_0 in return, haha!
So that's three down, twenty-eight more to go! See you tomorrow with some green themed nails!