Hi everyone!
I'm so very excited to show you today's challenge mani!
The theme today is blue nails and I decided to try an ikat print design for the first time. And let me just say, this will NOT be the last time you see an ikat design from me! I really just fell in love with this print as a manicure.
The base colour for this design is
Orly Snowcone
, a beautiful cornflower blue. The rest of the design is done using
Color Club Twiggie
and two of the
It's So Easy Stripe Rite Paints
(black and white). These stripers worked really well for this design because the thin brushes allowed me to get those really fine brush strokes.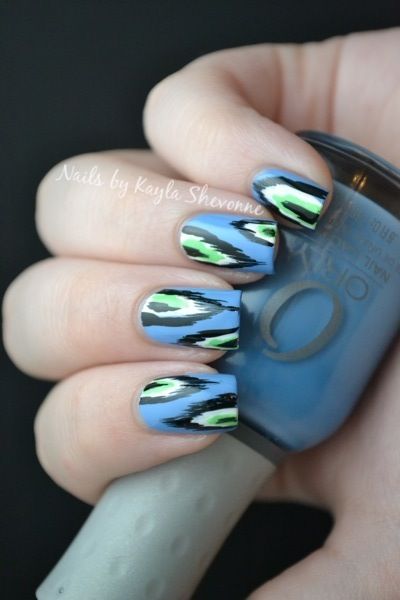 Because I'm so in love with this manicure, I'll be posting a step-by-step tutorial for this design as soon as possible. I hope that's something that you guys are interested in seeing!
You may have noticed that
Rebecca
also did an ikat print design for her Day 5 manicure. Shockingly, we were not in cahoots about this and we honestly had no idea that the other did ikat print! First we did similar mini fruit prints (her
apple manicure
and my
orange manicure
), and now this! It's a little eerie, no?
So that's it for Day 5!
I didn't want to remove this manicure at all, but tomorrow is violet themed nails and I have a cute stamping design to show you. I'll also be doing a double post tomorrow so stay tuned for both posts.
Five down, twenty-six to go!