Hey guys!
Today is Day 6 of the challenge and so far I think it's going great! I'm not feeling stressed by having to do a new manicure every day, although maybe I'll be singing a different tune when I'm a little further into the challenge. But for now, all is good!
The theme for today is violet nails, which to me just means purple nails. I mean, come on.
Since I'm really trying to improve my stamping skills, I've got another stamping design for you today, this time using the DRK-A plate. Check it out!
The base colour for this cute kitty design is none other than
China Glaze LOL
from the coveted OMG Collection. Using
Konad White
, I then stamped the cat image from the
DRK-A
plate. And on my ring finger, I stamped a single paw print from
BM-323
.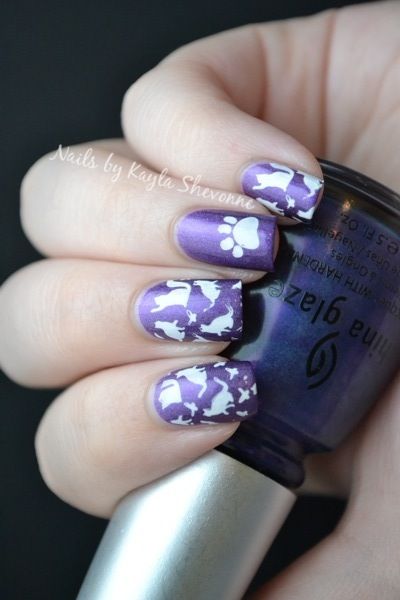 Did anyone else notice that one of the poor kitties on my index finger is missing his head? Haha!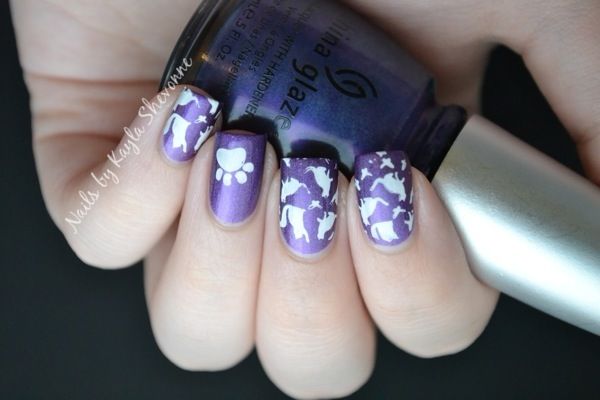 And what kind of blogger would I be if I didn't also show you a swatch of LOL on its own? First is a natural light photo and the second one is using flash to show off the holo effect.
So that's it for Day 6! Six down, twenty-five to go!
Today is the end of the single colour themes and tomorrow marks the beginning of the more elaborate themes, starting with black and white nails. I have a great idea for tomorrow's mani, I'm just hoping it turns out as well as I have planned. So stay tuned to see if my idea comes together nicely!
In the meantime, I have another post for you later today featuring some Illamasqua polishes. Check back in a few hours for that!