Hi everyone!
I mentioned in yesterday's post that I had a fun idea planned for today's manicure, but that I wasn't sure if it would translate very well onto my nails. Fortunately, it turned out even better than I'd hoped!
But before I show you the manicure, I have a little backstory on where this idea originated from!
As some of you may know, I studied sociology, psychology and criminology in university. Well, I was flipping through a couple of my old textbooks last week to see if there were any I could sell or just get rid of entirely. I happened to come across several mentions of the
Rorschach Inkblot Test
, which for anyone who doesn't know, is a psychological test in which subjects are shown inkblot photographs and their interpretations of those photos are then analyzed. In you're interesting in finding out more about the test, check out the Wikipedia article
here
.
So as I looked through many of the different inkblot patterns, it struck me that they had the potential to make a really great manicure! And what better day than black and white day? So, I present you with a manicure featuring two of my passions - nail art and psychology!
The only two polishes I used for this design are
China Glaze White on White
and
China Glaze Liquid Leather
.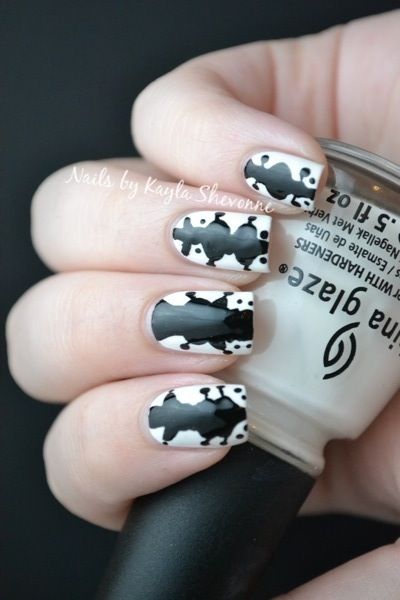 Most of the legitimate inkblot patters from the test are rather complex, so I had to improvise for the most part and come up with my own patterns that would work well on such a small canvas. Basically, I just did a series of lumps and bumps using my small detail brush. I also used a dotting tool to add some extra splats around the main patterns.
The hardest part of this design was trying to get the inkblot patterns symmetrical. It's a lot harder than I thought it would be! Considering that, I think most of the patters turned out pretty good, although the one on my index nail came out a bit lopsided.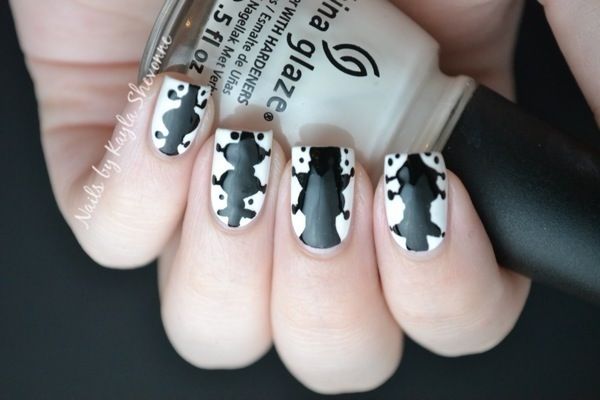 I'm super proud of this design and I hope you guys like it too!
So that's seven down, twenty-four more to go! See you tomorrow for some metallic themed nail art!