Hey guys!
It's rainbow day! You all know I love to do rainbow themed nail art, so I was obviously very excited for today!
Interestingly, my love of rainbow nail art actually made coming up with a design for today more challenging! I've done so many rainbow designs in the past that it was a task just coming up with a new and creative way to incorporate rainbow into today's mani. Nonetheless, I was up for the challenge and I ended up with this rainbow drippy manicure that I really love!
Let's be honest, most of my rainbow designs start out with a base of white. So this time, I started out with black instead. I then used white to freehand drips coming from the base of my nails.
I've done a
tutorial
on the drippy manicure before, so you can check that out if you want to learn how I made the drips. The only difference in this manicure and the tutorial is that I made the drips coming from the base of my nails here instead of from the tips of my nails, as is shown in the tutorial. The placement of your drips is entirely up to you.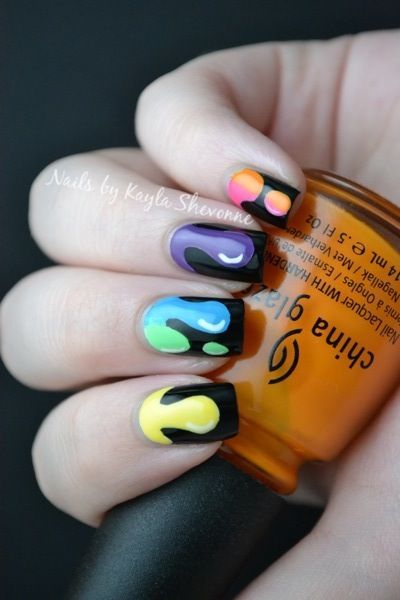 To fill in the drips, I used many of my go-to polishes for rainbow nail art. The pink is
Zoya Jolene
, the orange is
China Glaze Papaya Punch
, the yellow is
Orly Spark
, the green is
Color Club Twiggie
, the blue is
Zoya Robyn
and the purple is
OPI Funky Dunkey
. Finally, I give the drips a little bit of dimension by simply adding a touch of white to one side.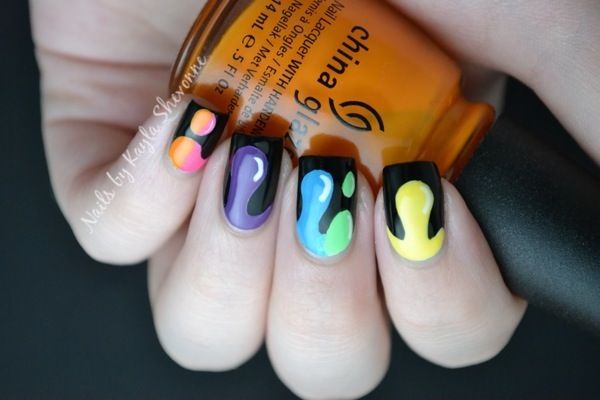 Nine manis down, twenty-two more to go! I'll see you all again tomorrow for some gradient nails!