Hey guys!
I wasn't planning a second post today, but since there's going to be a Candeo restock tonight, I figured this would be a great time to post this lovely Candeo polish!
Candeo Melonball
is a clear base with a mix of medium pink square and hex glitters, small coral hexes, large red hexes, and small green hex glitters scattered with a few large glowing rose copper hexes.
Let's take a look at it on the nails.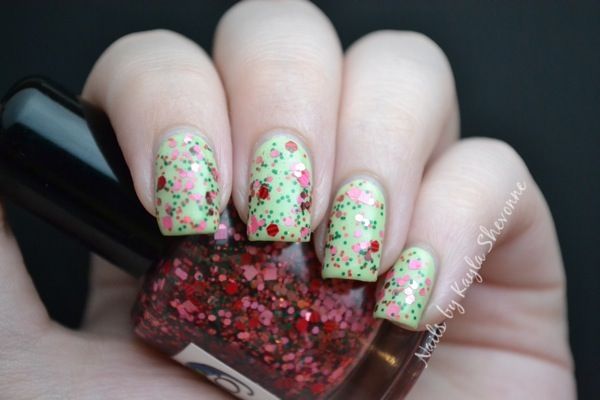 Here I've shown one coat (yes, just one!) over
Essence Exits On Your Right
, a pale green creme. I thought this would make a great melon-y combination of colours and I was totally right. I love it!
The formula of Melonball is on the thick side, as you would except with such a heavy-packed glitter, but I didn't have any trouble working with it. I also didn't have to do very much placing of the glitters - just a little here and there to perfect the look.
If you're not careful with your colour choice of your base colour, Melonball does have the potential to look Christmas-y because of the red and green glitters. I think I was able to avoid that with this combination, but just keep it in mind when deciding what to use as underwear for Melonball.
On the other hand, when the holiday season starts to approach, you can layer this over a great emerald green or a shimmery red and you've got a fun Christmas glitter manicure!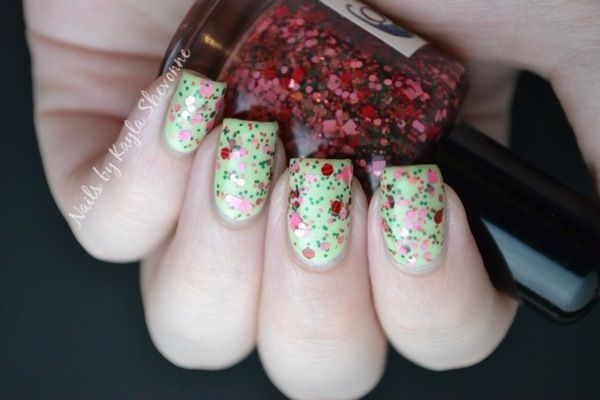 Melonball
can be purchased from
llarowe
(it's actually exclusive to llarowe!) and it retails for $12.
llarowe is having a Candeo restock tonight and Melonball will be available! The restock is at 7:00pm MDT (I'm in Canada so I'm not sure about the US times zones and what this translates to for you, so you'll have to figure that out).
What do you guys think of Melonball? What would you layer it over?
The product(s) in this post were provided by the above retailer in exchange for an honest review.