Hi everyone!
The blogging community has been abuzz lately with talks of an even easier way to remove glitter nail polish (the typical go-to method was the foil method, which I did a tutorial for a long time ago).
You see, Essence recently released a peel-off base coat that allows you to completely remove a manicure without the use of any nail polish remover, acetone, or foil. Instead, you literally just peel the manicure right off when you want to remove it. This was revolutionary since many of us (myself included) often avoid glitter bomb manicures simply because removal is such a pain.
Someone (I'm not sure who, but if you know, tell me in the comments) then brilliantly discovered that the ingredients within this new base coat are basically the same ingredients found in regular old school glue.
So, bloggers and nail polish enthusiasts alike went to work experimenting with school glue to see if it had the same effect. Turns out, it does! So below I've done up a tutorial on how to use school glue to create your own peel-off base coat!
Keep reading for the instructions and a demo!
What you'll need:
- Elmer's School Glue (the bottle I bought included a bonus glue stick, but you don't need that)
- Empty polish bottle (I had a near empty bottle of Seche Vite, so I cleaned it out, rubbed the label off with acetone, and added my own label)
- Cuticle stick (I actually recommend a rubber-tipped one as it's a lot easier on your nails and it still does the trick)
- A super glittery manicure (I used Candeo Melonball over Essence Exits On Your Right)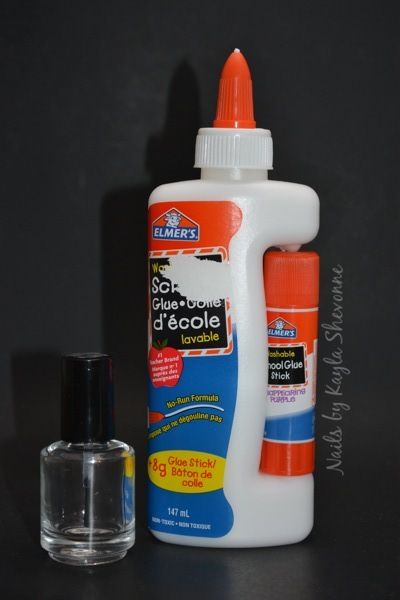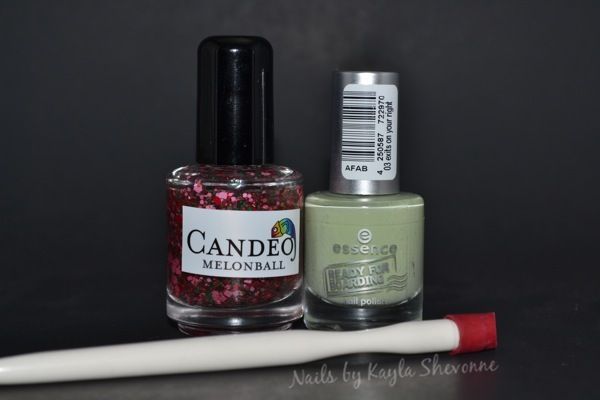 Step 1:
Fill your empty polish bottle with the Elmer's School Glue.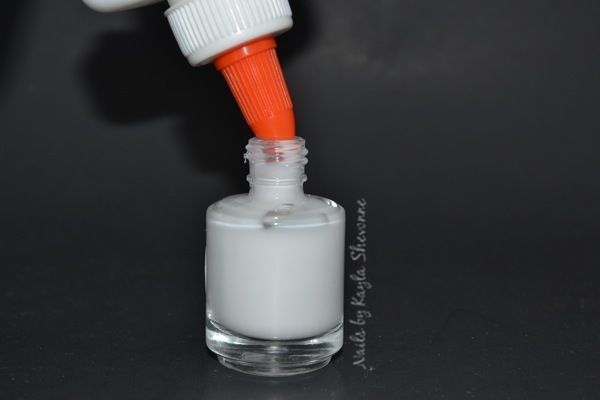 Step 2:
Instead of your normal base coat, apply the glue instead. Wait for this to dry completely (it will turn clear, but will have a flat finish).
The following photo was taken about 3 minutes after applying the glue. You can see that it's mostly dry (given the flat finish), but there's some at the tips of my nails that hasn't fully dried at this point.
Oh and please forgive the staining!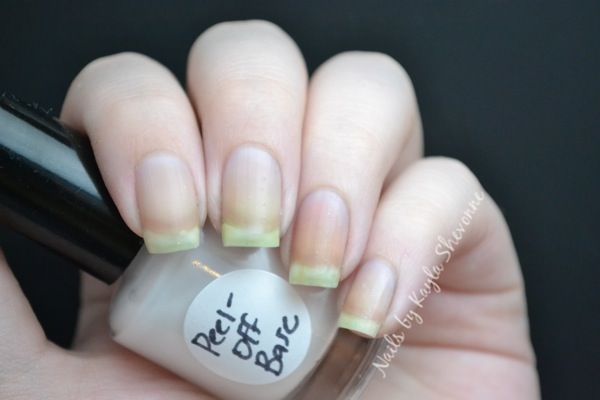 Step 3:
Paint your nails with a glitter nail polish.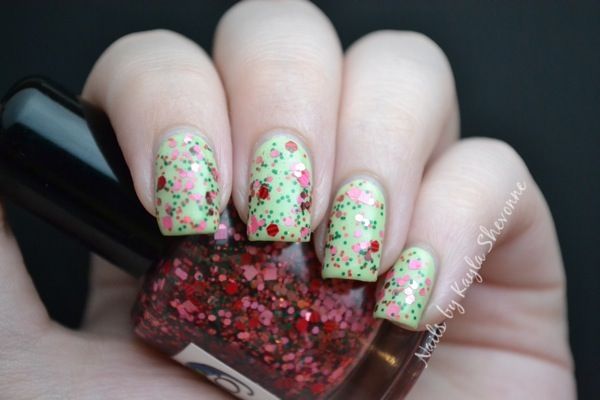 Step 6:
You'll be excited to try out the peeling for yourself, but don't get too impatient. Leave your mani on for at least a day before peeling it off. I made this mistake the first time I tried this technique and my manicure did not peel very well. Instead of peeling off in sheets, it instead came off in little bits and pieces.
So when you're ready to remove your polish, start at the base of your nail and use your cuticle pusher to gently lift the edge of the polish.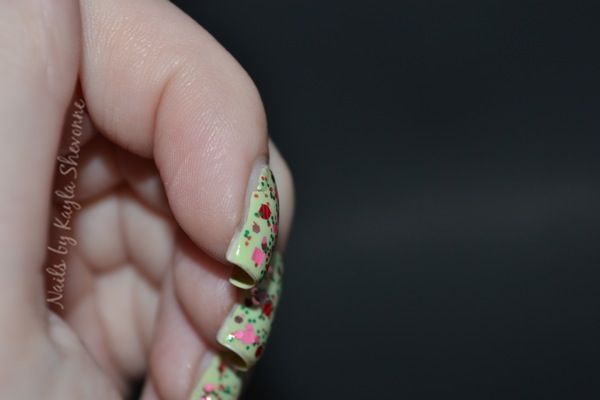 Step 7:
Once you've lifted enough of the polish for you to get a good grip on it, peel the remaining polish off with your fingers. The polish should come off in single sheets.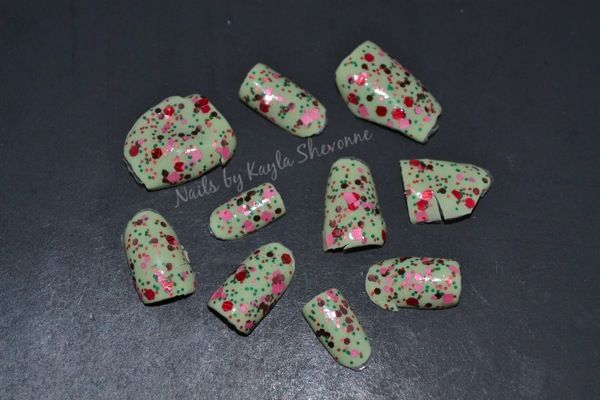 Step 8:
To ensure that you've removed all of the glue residue, be sure to wash your hands when you're finished removing all of the polish.
_________________________________________________________________________________________________
And there you have it! The easiest method yet for removing glitter polish!
Now, before anyone asks or comments about it, I'm really not sure about how safe this is. The bottle claims that the glue is safe and non-toxic, and that's about enough for me. But if you're really concerned, I suggest you do some research on the ingredients beforehand.
My big concern about this was that it would be damaging to the natural nail to push at the edges with a cuticle stick. My advice is to just be gentle and try to use a rubber cuticle pusher if you can. A glittery manicure is not worth damaging your nail plate.
My other concern was the wear time. Would this last as long as a regular manicure? I only left my mani on for about a day, but I didn't have any lifting, peeling or chipping before I removed it. It also lasted through a shower, so contact with water shouldn't be a concern.
So have you all tried the peel-off base coat yet?