Hey guys!
Before I show you my mani for Day 11 of the 31 Day Challenge, I've got some fun indie swatches for you!
This is the first time that Dollish Polish has been featured here, but I sure hope it's not the last. The polishes I'll be showing you are from the much anticipated
Super Mario Bros. Collection
. There were eight shades released with this collection and I have five of them to show you today.
1-UP
is a clear base with lots of bright green glitter as well as scattered white bar, hex and square glitter pieces. For my swatch I've layered one coat of 1-UP over
OPI Who the Shrek Are You?
, which I thought made a pretty cool combination! The formula was easy to work with and I didn't have to do any glitter placing.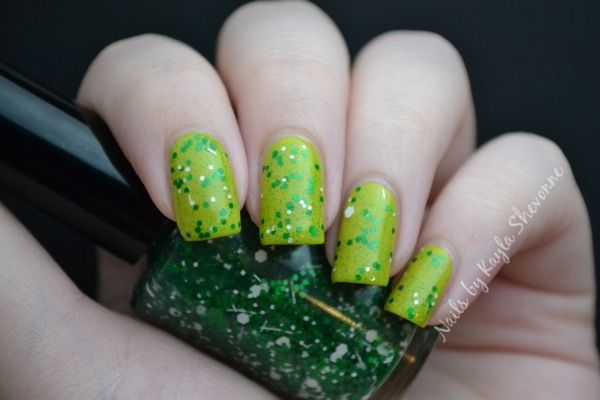 A Peachy Princess
is a super girly mix of pink glitter in a clear base. There's holographic pink glitter, pink squares, hot pink hexes and smaller squares and hexes. I had to go with the girlyness of this and layer it over a bubblegum pink -
OPI Pink Friday
. The formula was good and my swatch shows one coat over the base colour.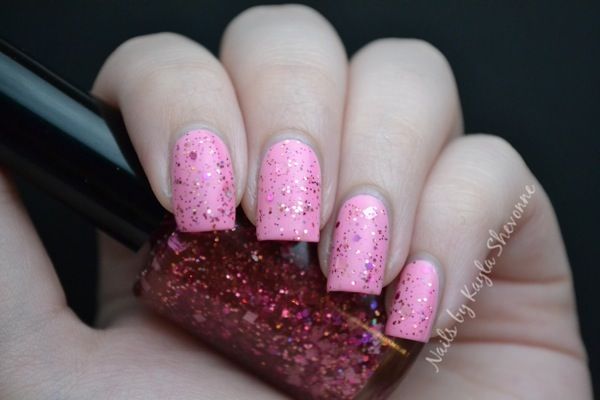 Dino-mite Yoshi
is a clear base that is packed with different sizes of bright green, light green, red, white and orange glitter. This one is definitely my favourite of the bunch, but I unintentionally have a very Christmas-y swatch of this! I knew it would look great over an emerald green but it didn't even dawn on me that the end result would scream Christmas! Nonetheless, I love this combination and I'll be wearing it again when it's more appropriate.
The base colour here is
OPI Here Today...Aragon Tomorrow Suede
and I've shown just one coat (yes, just one!) of Dino-mite Yoshi on top. The formula was great with this one as well.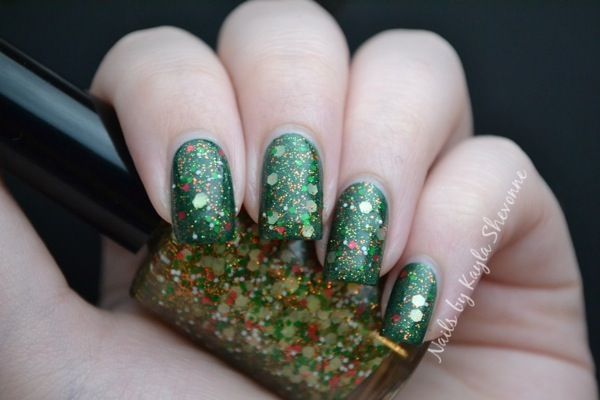 Toad-ally Awesome
is a clear base with a mixture of red, white, blue and yellow glitters. I've shown one coat layered over
OPI Ogre-the-Top Blue
for my swatch. The formula was once again easy to work with. This polish is totally awesome (I'm hilarious, I know).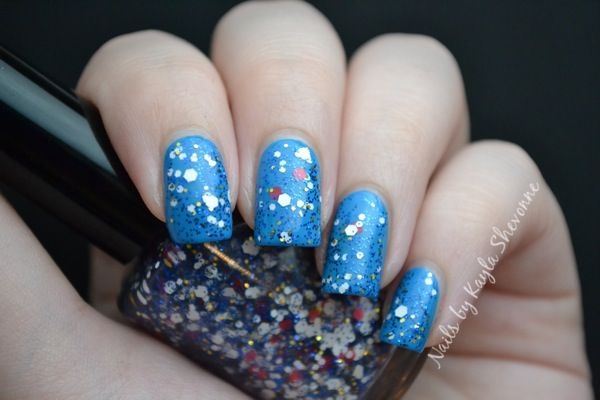 Wicked Wario
is mainly a fine purple glitter in a clear base but there's a scattered mixture of green and yellow glitters as well. I actually wish there were a few more of the yellow and green glitters, but not too many more because I do like that the dominant colour is purple.
My swatch below is over
OPI Alpine Snow
and I've shown two coats of Wicked Wario on my index and middle finger nails, while there's only one coat on my ring and pinky nails. The formula was great once again.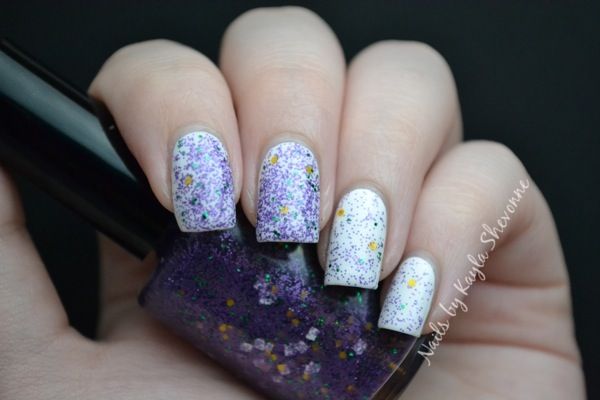 Overall, I'm really happy with this collection and this was a great introduction to Dollish Polish for me. I think she hit the nail on the head with the colours as I can really see the Super Mario Bros. inspiration!
I am sad that I don't have the other three polishes from this collection to show you because those are equally as aweomse as the above ones. You can check out the rest of the collection over at
The PolishAholic
.
The Dollish Polish Super Mario Bros. Collection can be purchased from
llarowe
for $11 per 15ml bottle. The collection is actually in stock right now, so snatch them up while you can! And keep up with llarowe
on Facebook
for future stock dates.
The product(s) in this post were provided by the above retailer in exchange for an honest review.