Hey guys!
I was starting to get bored of not having any nail art on my nails while I've been doing my wear tests of the Nfu-Oh Holographic polishes so I decided to take a short break from them and do some nail art. Since it's been about 2 weeks since my last nail art design, I wanted to do something totally obnoxious and in-your-face tonight. And what could be more obnoxious than a combination of rainbow neon colours and animal print?!
To do this design I used the same products and went through the same steps as in my
Neon Rainbow Cheetah Print Tutorial
except that instead of freehanding the black cheetah spots, I freehanded black zebra stripes.
Hope you like it! And I'll return to and finish up the Nfu-Oh Holographic reviews/wear tests once I remove this design. :)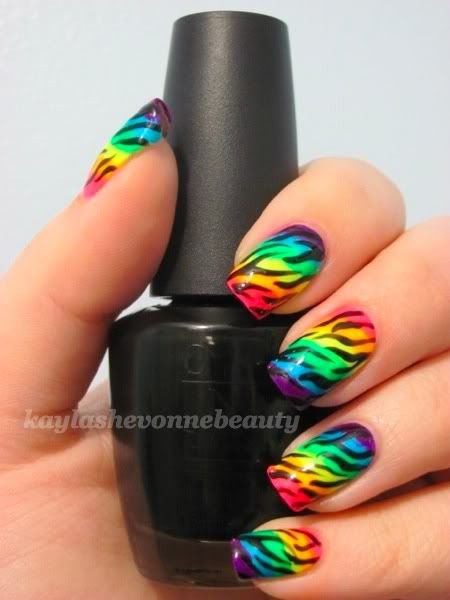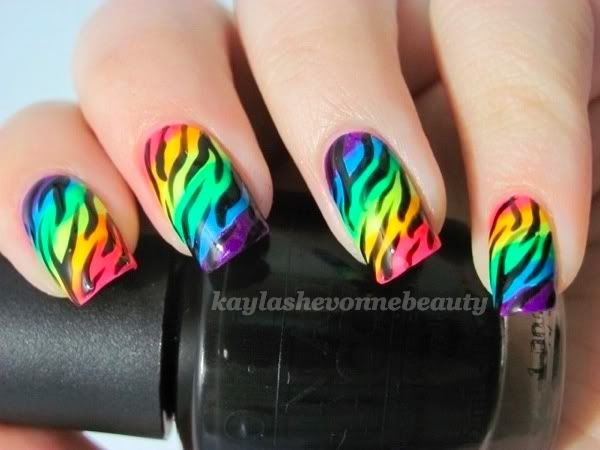 Products:
OPI Chip Skip
CND Stickey Base Coat
OPI - Alpine Snow (base)
China Glaze - Pool Party (pink)
China Glaze - Sun Worshipper (orange)
China Glaze - Yellow Polka Dot Bikini (yellow)
China Glaze - Kiwi Cool-Ada (green)
China Glaze - Towel Boy Toy (blue)
China Glaze - Flying Dragon (purple)
OPI - Black Onyx (zebra stripes)
Seche Vite Top Coat