Hey guys!
After I posted my patchwork mani a few days ago, I received more than a few requests to do a corresponding tutorial. Since I'm still not comfortable with video tutorials, I decided that I would attempt to create a photo tutorial and that hopefully that would suffice for now. I think it turned out ok and I hope that I explained everything clearly.
If you guys find this tutorial helpful, please let me know in the comments as this is something that I can be doing on a regular basis, but I definitely need to know if this is something you all want. Additionally, if there are any of my older nail art designs that you'd like to see a tutorial for, please let me know which one(s) in the comments.
As a refresher, here's the patchwork mani that you all seemed to really like: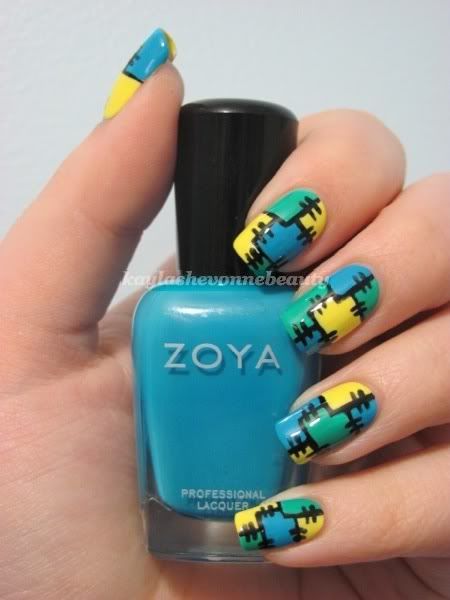 Keep reading for the tutorial!
What you'll need:
White polish (for a base coat), black polish (for the stitches), and 3 colours of your choice for the patches.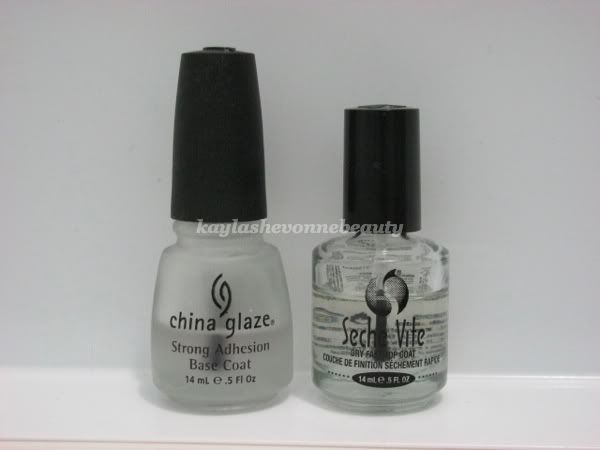 Your favourite base and top coat.
A detail brush (mine is from Michael's and the brand name is Simply Simmons) and a striping brush (mine is from eBay and you can get them for next to nothing). Instead of using a striping brush, you could also use the black L.A. Colors Art Deco polish (or any similar brand of nail art polish, as long as the brush is long and thin).
Step 1:
Apply your base coat. (I didn't think it was necessary to take a photo of this step.)
Step 2:
Apply one coat of your white polish. This will make the other colours you're using pop and will also just create a better base for your design.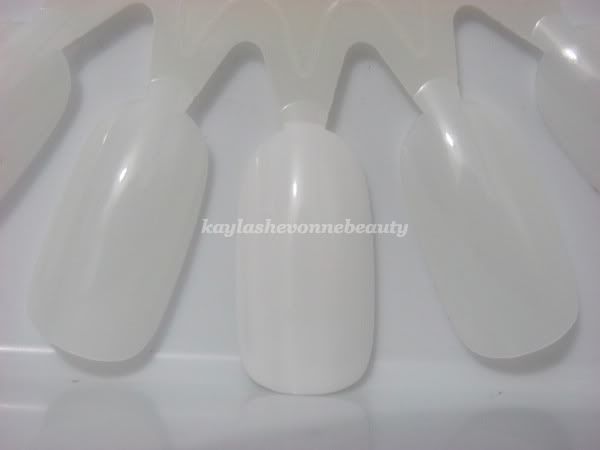 Step 3:
Using your striper brush dipped into some black polish, freehand some stripes that will serve as the outline for your patches. You can make the patterns different on every nail but I decided to keep each nail the same. Your lines do not have to be perfect at this point as you can go back and perfect them later.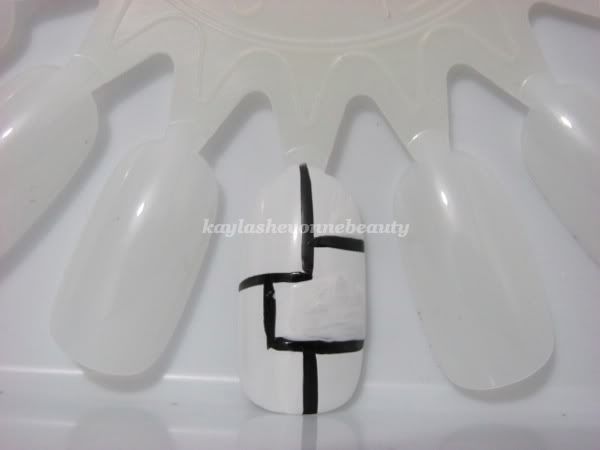 Step 4:
Start filling in your patches. A very important part of this step is that you make sure that you never have the same colour patch touching another of the same colour. This is one of the main reasons I decided to stick with the same pattern of patches on each of my nails - the pattern I came up with worked well and none of the coloured patches touched another one of the same colour.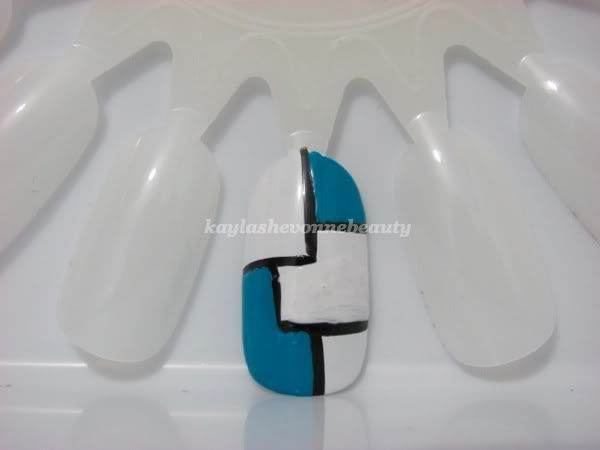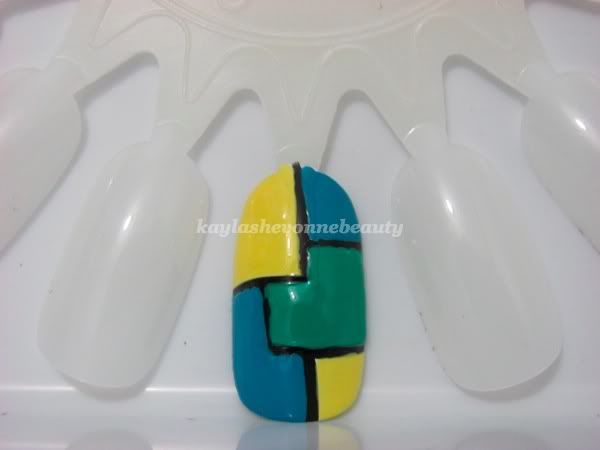 Step 5:
Once you've filled in all of your patches, you can now go back and perfect your black lines. Use your striping brush again and carefully work on making your lines as straight and consistent as possible. This will of course be more difficult when working with your non-dominant hand but it gets easier with practice, I promise.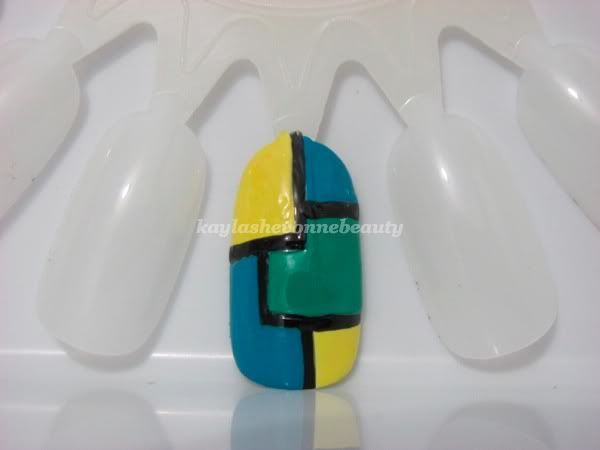 Step 6:
Now you'll want to use your small detail brush to create the stitches. You could use your striping brush again for this step but I found that that brush was just a little too long for the smaller stitches that I was going for. Once again, you can place the stitches anywhere you want but once I found a pattern that I liked, I stuck with it for each nail.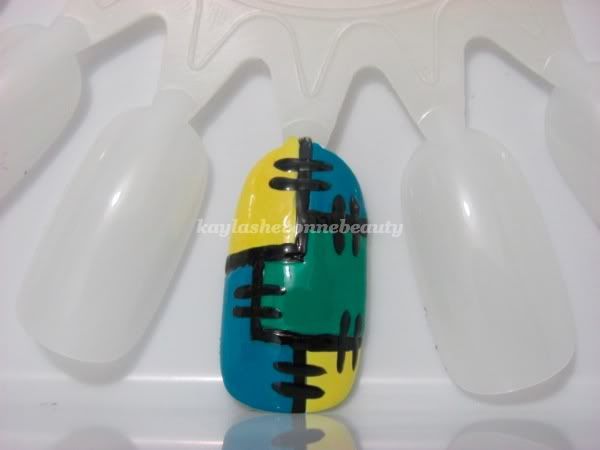 Step 7:
After allowing your design to dry completely, add a layer of your favorite top coat. This will make your new mani last longer, it will smooth out any bumps and ridges that have been created during the process and will also give your nails a nice shine.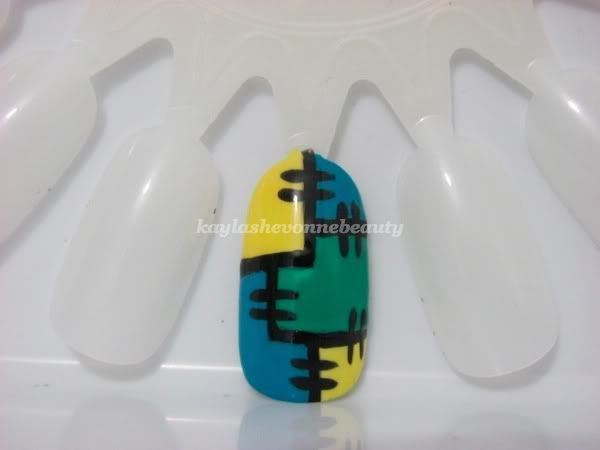 And just so you can understand the versatility of this design, here it is using entirely different colours.
A Polished Touch
suggested using purple, coral and white in the comments of my original post and I thought that those would be nice to try so this is what it looks like: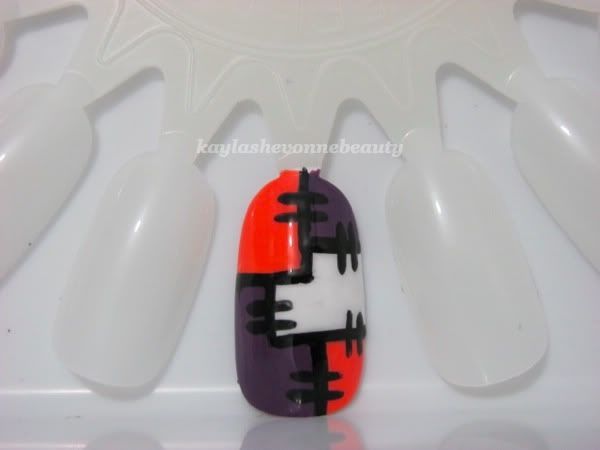 The colours are OPI Alpine Snow, MAC Malibu Peach (much peacher in person, my camera made it seem much brighter than it truly is) and OPI Funky Dunkey.
So there it is - my first nail art tutorial! I hope you guys found it helpful and I hope I explained everything well.
If you try this design yourself I'd love to see it!