Hey guys!
Today I'll be showing you the final design in my St. Patrick's Day series. For today's design, I had a number of simple ideas running through my head, but I couldn't land on just one. So, I decided to incorporate all of the ideas by creating a St. Patrick's Day skittle mani!
For my pinky nails, I did a simple green striped mani, and for my ring nails I did a green dot design that's reminiscent of my
rainbow polka dot design
. For my middle nails and thumb nails (not pictured), I simply did 2 coats of Nubar Reclaim, which is a gorgeous green linear holo. And finally, for my index nails, I did a subtle ruffian with a basic shamrock accent. I've totally fallen in love with the ruffian mani and I can foresee many more of them in my future!
Enjoy!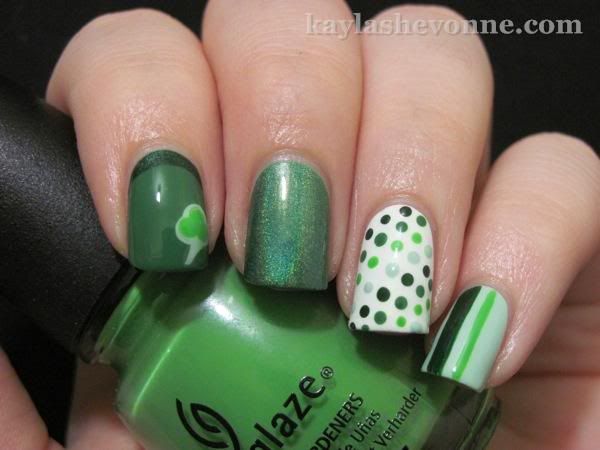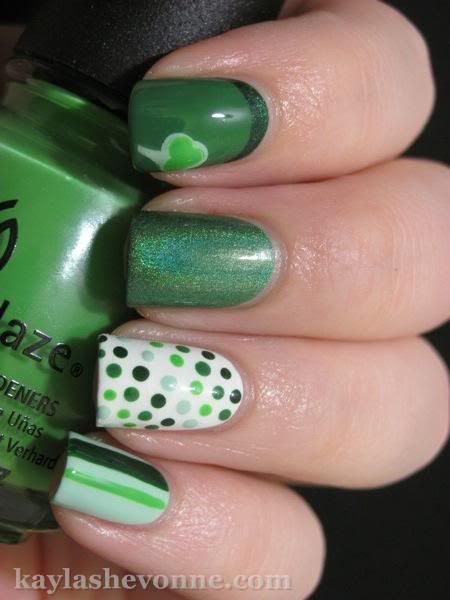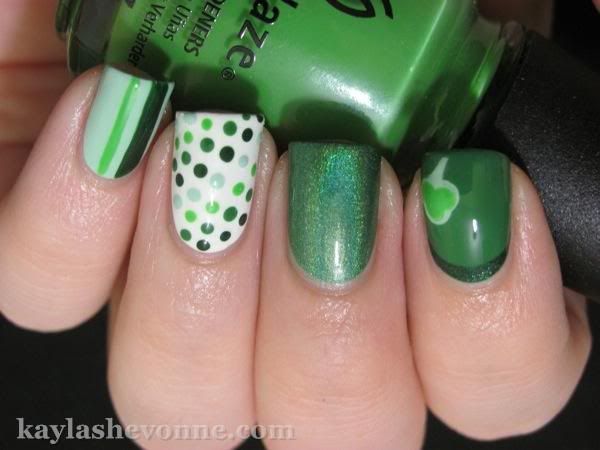 Products used:
CND Stickey Base Coat
Essie - Mint Candy Apple (base on pinky, lightest dots on ring, shamrock on index)
China Glaze - Holly-Day (dark stripe on pinky, darkest dots on ring)
China Glaze - Gaga for Green (light stripe on pinky, lime dots on ring, inside of shamrock on index)
China Glaze - Starboard (medium dots on ring, creme section of ruffian)
Nubar - Reclaim (middle and thumb)
OPI - Here Today...Aragon Tomorrow (base for ruffian)
Seche Vite Top Coat