Hey guys!
Today I have another tutorial for you! I've been trying to post more tutorials since I know how much you guys like seeing them, so I hope you're enjoying them!
Today's tutorial is going to be for one of my designs from last year's
music video nail art series
. The design was based on the Beyonce's 1+1 video, and the end look is very retro and classic looking. The mani I did features a red half moon and leopard print, so this tutorial will not only show you how I create my leopard spots, but also how to get the perfect half moon mani!
To refresh, here's the design I'll be showing you how to do: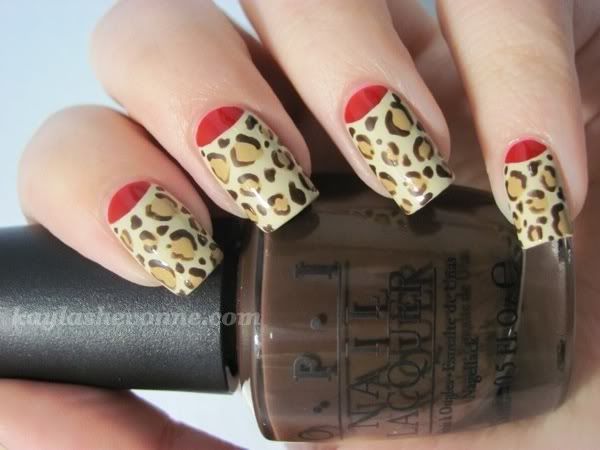 What you'll need:
I've included the exact brands/names of the polishes I used, but you can use whatever brands/shades you have in your stash.
Polishes:
- Base coat (CND Stickey)
- Top Coat (Seche Vite)
- Beige creme (American Apparel California Trooper)
- Cherry red creme (China Glaze Salsa)
- Medium gold (China Glaze Classic Camel)
- Chocolate brown creme (OPI Suzi Loves Cowboys)
Other tools:
- A medium sized dotting tool
- A small nail art brush
- Paper hole reinforcements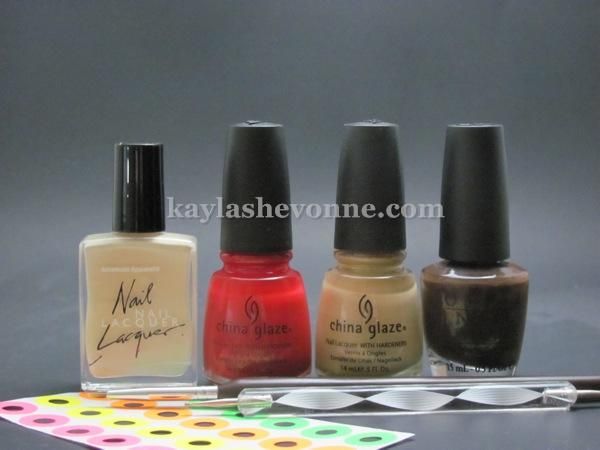 Step 1:
Cut 5 of the paper hole reinforcements in half. You'll obviously be left with 10 - one for each nail.
Step 2:
Apply your base coat.
Step 3:
Place the half hole reinforcement at the base of your nail.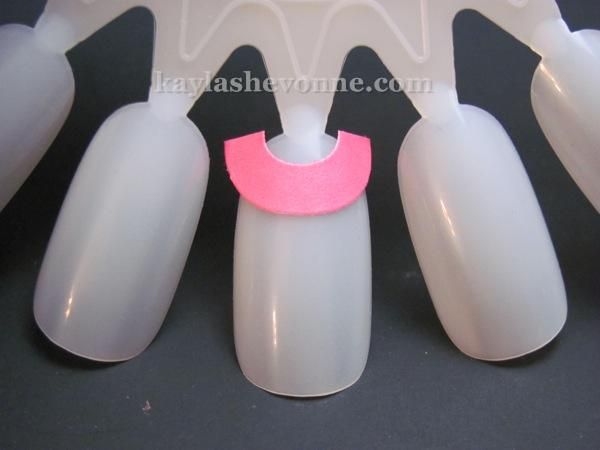 Step 4:
Apply your base colour (the beige creme) as normal. Immediately after applying your base colour, remove the half hole reinforcement (I like to remove them with a pair of tweezers so that I don't ruin any polished nails while peeling these off).
You'll be left with a near perfect half moon shape! (If it's not totally perfect, that's ok because you can fix any imperfections with the red polish.)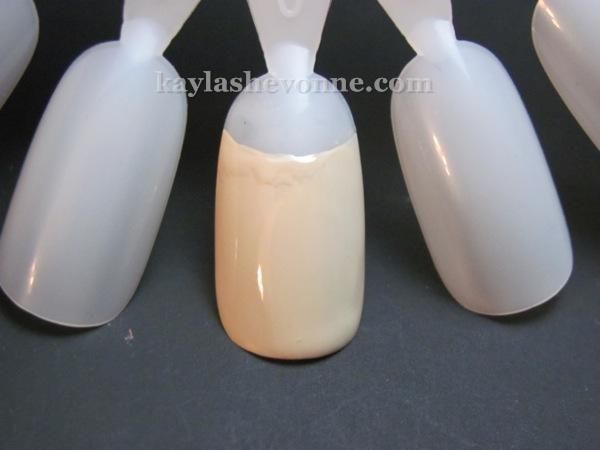 Step 5:
Using your small detail brush and the red creme, carefully fill in the half moon shape.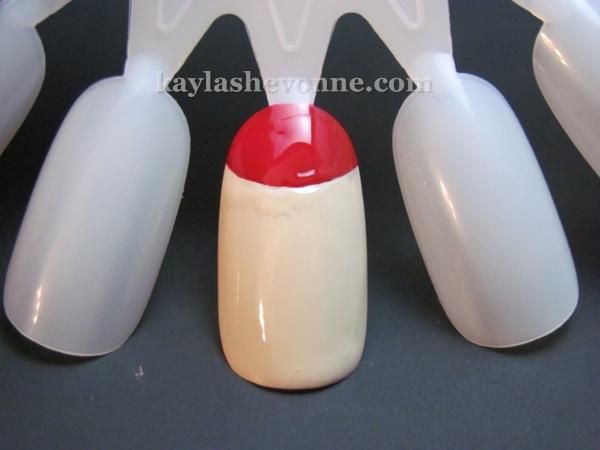 Step 6:
Your half moon design is now complete, so we can move on to the leopard print. Using your dotting tool and your gold polish, dot on some random, irregular shapes of different sizes.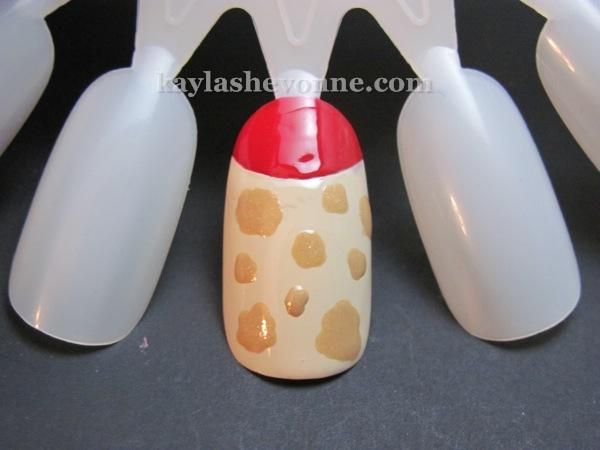 Step 7:
Using your detail brush and the brown creme, outline the shapes you just created with C, backwards C, U, upside-down U, and O shapes. Make these shapes sort of jagged and imperfect so that it looks more realistic.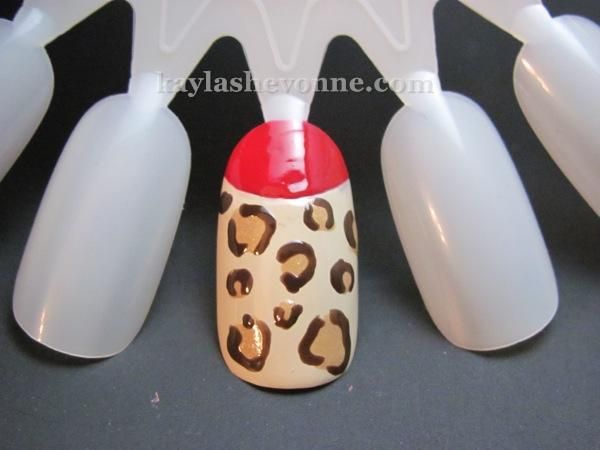 Step 8:
If there are any spaces left in between your spots, add in some small irregular shapes with your brown creme.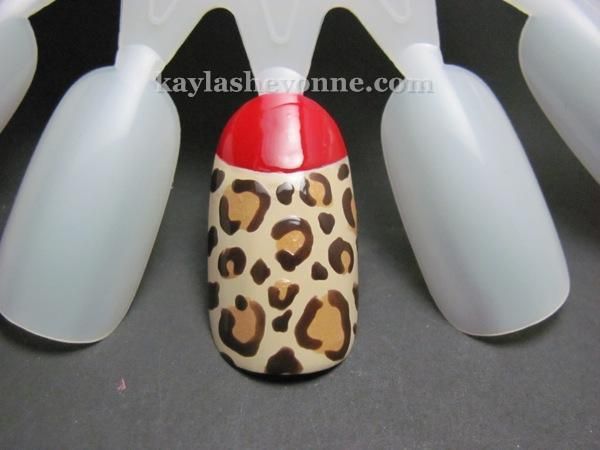 Step 10:
After allowing your design to dry completely, add a layer of your favorite top coat. This will make your new mani last longer, it will smooth out any bumps and ridges that have been created during the process, and it will also give your nails a nice shine.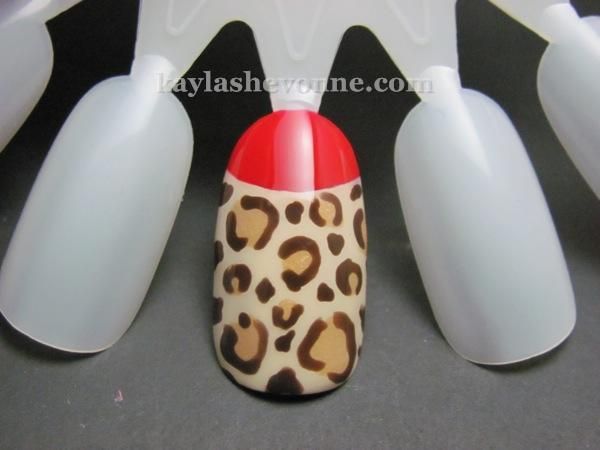 That's it! I think that's a pretty simple and easy way to do a half moon mani, and many of you have been asking me how I do my freehand animal print designs!
As always, I hope this tutorial was helpful and I hope some of you will try this design out for yourselves. And I'd love to see pictures if you try it!